How Do Restaurant Cleaners Improve Your Business?
At SanMar, we understand how important it is for restaurants to maintain the highest possible level of cleanliness. We strive to provide the best restaurant cleaning NYC has to offer because we know that customers can be easily turned away if your establishment is not clean enough.
A good impression is essential and our goal is to help you make a great one. Whether it's a fine-dining restaurant, cafe, bistro, or diner, let us help you to create the perfect atmosphere of cleanliness and hygiene for all your customers.
You could spend time and resources training your employees to meet the city's stringent health-code standards. Or you could let the pros handle it, ensuring that your restaurant – including dining areas, floors, food prep areas, and bathrooms are spotlessly clean and hygienic.
When you choose SanMar as your NYC restaurant contract cleaner, you can be certain that the cleanliness of your food-service business will be top-notch. We take pride in delivering excellence every time.
Want to see some of the types of restaurants and commercial kitchens we clean?
Here are Some Examples …
Manhattan Restaurant Cleaning Services
The kitchen is the heart of your food-service establishment, and it needs to be cleaned and serviced by trained professionals to operate at peak performance. The health of your customers and the safety of your employees each depend on it. We're focused on helping you keep your back-of-house operations spotless and functioning efficiently.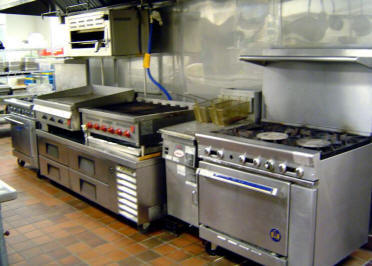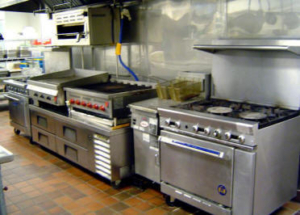 As a restaurant manager or owner, you know that in order to be profitable, you need your restaurant to be open. That's why our cleaning crews are available to clean around your business's schedule – early morning, overnight, daytime, and weekends – so that when it comes time for business hours, your restaurant is sparkling clean and ready for service. We make sure to mop and clean all work areas before your business hours. With our help, your restaurant will always look its best.
SanMar's Technicians are Trained, Experienced, and Knowledgeable
Our expert technicians clean to ensure that all FDNY, NYC Health Code, and insurance requirements for your food-service business are met. We are dedicated to customer service and impeccable standards of cleanliness. If you're looking for a new contractor or considering outsourcing, please get in touch with us for an estimate to clean your restaurant; we'll give you the lowest possible price without having to sacrifice quality. With SanMar, you will receive the best restaurant and bar cleaning services NYC has available at surprisingly affordable rates.
New York City Food Processing Cleaning Services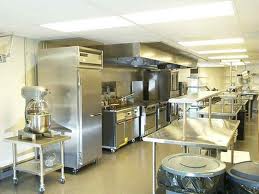 For companies that operate a facility for food-processing such as a commercial bakery, seafood processing, commercial kitchen, vegetable packing facility, or meatpacking plant we understand cleanliness is not only required by law but also crucial for the quality of your company's end product. Furthermore, a variety of regulations require you to observe strict guidelines for cleanliness. It's why you can't take chances, and outsourcing your cleaning is beneficial. Finally, we have staff who are trained and certified in FDA, OSHA, USDA, or other New York City health and safety protocols.
We're a Value-Oriented Contractor for Many Food-Service Businesses
Just as your customers trust you, you can trust the pros at SanMar to do the job correctly. We're careful as we clean and take care to safeguard the expensive food-processing equipment on which your business depends. We also work efficiently to go easy on your budget. You'll be pleasantly surprised by our rates for the caliber of service we provide. Our goal is to make a noticeable improvement from the first service date when to clean your food-processing establishment effectively and inexpensively from now on. Consistency means everything, and we'll make sure you can concentrate on your business and customers while we keep your facilities spotlessly clean.
See the Difference With Routine Cleaning Services
01

Routine Kitchen Maintenance: Sanitization & Cleaning

02

Deep Cleaning the Kitchen, Restrooms, & Dining Areas

03

Professional Exhaust Hood Cleaning & Degreasing
Creating a daily checklist for cleaning restaurants in NYC is essential in order to ensure the safety and hygiene of your establishment. This checklist should include tasks such as wiping down surfaces, sweeping and mopping floors, sanitizing bathrooms, washing dishes, and disposing of garbage properly. Additionally, consider checking that food temperature is within safe limits and any broken or malfunctioning equipment has been fixed or replaced. Finally, it is important to note that the checklist should be regularly updated to adjust for any changes in the restaurant layout, menu items, and customer traffic. By having a daily cleaning checklist in place, you can ensure that your restaurant is always up to safe standards of hygiene and sanitation.
Hiring a restaurant kitchen cleaning company can be a great way to manage daily cleaning tasks and ensure your establishment is always up to safety standards. Professional companies are trained in the proper techniques for food preparation, which can help reduce health risks associated with unclean surfaces and improper food handling. Additionally, they have access to the right eco-friendly cleaning supplies and equipment to ensure that every surface and item has been properly sanitized. By hiring SanMar to perform regular cleaning services for your restaurant, you can be sure that your kitchen is always up to health code standards and free from contamination or other risks. It's an investment in the future of your restaurant business, allowing you to focus on providing excellent customer service and great cuisine.
Commercial Kitchen Hood Cleaning
It's a given that clean kitchen exhaust systems reduce restaurant fire hazards. To keep your commercial kitchen safe from fires and other hazards, regular degreasing and maintenance of the hood are essential. Not only does this promote a cleaner work environment for your staff in the New York City area, but it also increases their performance by removing heat and odors more efficiently. This will make things cooler and more comfortable for them as they work. Investing in regular degreasing and maintenance of the hood is a key defense against fires that will help your business grow and succeed.At SanMar, we have the know-how and equipment to service your system to the highest standards: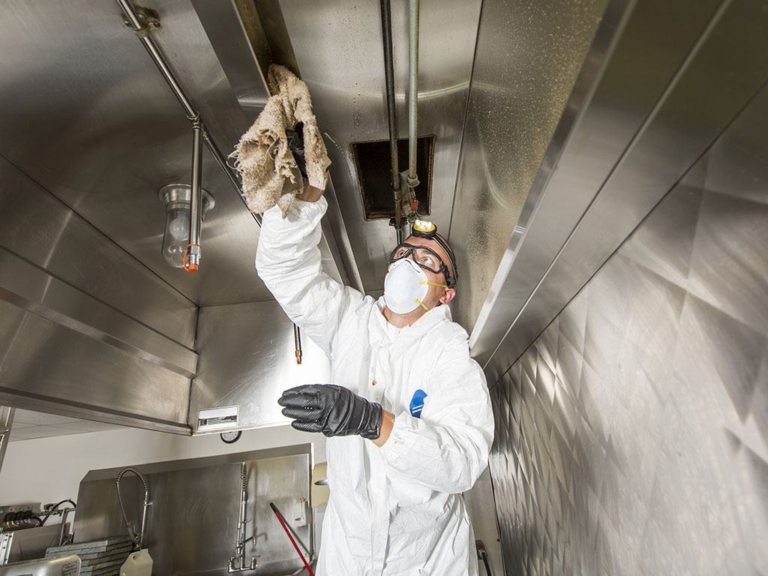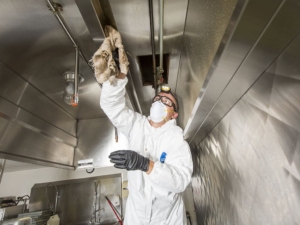 • Eliminate grease build-up from your hood, air ducts, and fan system.
• Degrease or replace filters as needed.
• Clean all accessible areas of the restaurant exhaust ductwork.
• Place access doors where necessary.
• Clear away fan blades, motors, and other parts from built-up dirt and grime.
• Inspect and replace exhaust fan belts if needed.
• Tighten up the electrical connections of your exhaust fan.
• Check fan blades for signs of wear and tear; replace them when necessary.
The best maintenance plan is a service agreement for a regularly scheduled cleaning and maintenance program. It's your best defense against fire hazards and will prolong the life of your system. You'll also have less stress at inspection times and give a morale boost to your chefs and kitchen crew, who will be working more comfortably and safely.
Read Our Articles to Learn More About Cleaning Trends for Restaurants & Commercial Kitchens
How Hiring SanMar to Clean Your Restaurant Can Save Time & Money?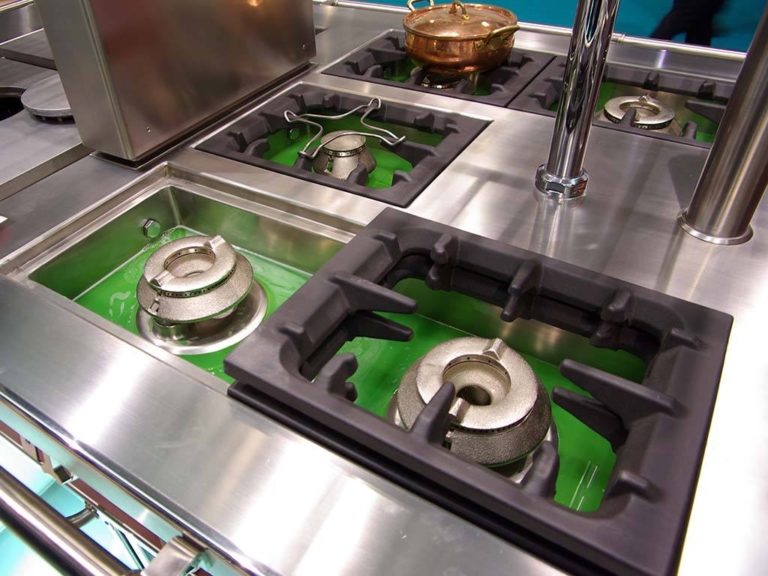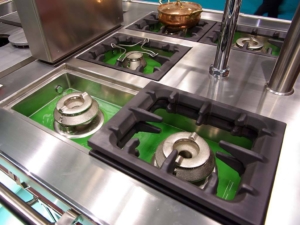 Hiring a commercial kitchen and restaurant cleaning company such as SanMar can save you time and money. Our professional cleaners are experienced in performing the tasks associated with deep cleaning and sanitizing, meaning they do it right the first time. This saves you from needing to perform multiple cleanings, saving your business both time and money. Furthermore, our kitchen cleaning pros are able to work quickly and efficiently – meaning that they complete the job faster than if it were done by a restaurant's own staff. This means less time spent on cleaning and more time spent on other tasks that can help your restaurant thrive. From the back of the house to the front our highly skilled NYC janitorial staff clean it all.
Check Out Reviews from Our Existing Clients
Want to Read More About the best Restaurant Cleaning Services NYC has Available?
We make it easy to discover more about NYC commercial cleaning and current trends by reading articles on our blog. These articles answer frequently asked questions about the cleaning services available for restaurant and kitchen cleaning in New York City. You can read a wide range of posts about how to keep your establishment cleaner.
"Strategies for Superior Restaurant Kitchen Cleaning"
Take your cleanliness to the next level with our cleaning tips for restaurants. Learn the best practices for keeping your establishment clean and what impact cleanliness has on customer satisfaction.
"Sanitary Restaurant Cleaning to Help Meet Food Safety Rules"
Due to the New York City Department of Health's strict food safety inspection standards, roughly 27,000 businesses face complying with the city's rules. In this article learn how the best cleaning company NYC has available can remove the stress of receiving a less-than-optimal food safety grade during an inspection.
"New Restaurant Cleaning Updated for Today's Needs"
After the covid-19 pandemic, many restaurant operators still struggle to find staff in a tight labor market. Hiring us as your NYC commercial cleaning company lets you focus your time on managing staff and providing excellent customer service. Read on to find out how we can help.
"Restaurant Exhaust Hood and Vent Cleaning Services"
When companies hire SanMar to clean restaurants in New York City, we take care of everything, including your kitchen exhaust vent hoods. Learn more about why it's important to keep your exhaust hoods clean and how we do it.
An NYC Restaurant Cleaner That Does It All
New York City is listed as the world's greatest restaurant cities and is famous for every size and type of eatery. It's why we've created our cleaning services for restaurants to fit everything from the top celebrity chef-owned restaurants to fast-food establishments and the busiest diners. Each one has unique requirements, and for us, no two daily cleaning checklists are alike. Our team treats every food establishment individually and are attentive to its specialized needs. We're also equally focused on front-of-house and back-of-house (kitchens and prep areas) operations. Each needs to be effectively cleaned to give customers peace of mind and satisfy inspectors.
Please fill out our Contact Form to tell us more about your NYC cleaning needs. Our expert estimators will take a look and let you know how we can help.
Not Pleased with Your Current Contractor?
Let us show you the immediate impact we can have. SanMar Building Services stands out from the crowd with our specialized services. Our customers trust us and stay on board for long-term agreements because they know that we help their business grow in one of the most competitive cities around. The restaurant industry in Manhattan and Brooklyn is extremely competitive, and many things can influence a diner's opinion. We understand that budgets are always an issue, and we offer the best NYC restaurant cleaning services for an unbelievable price. If you're ready to make a change for the better, don't hesitate to get in touch with us today for a free, no-obligation quote for daily, weekly, or monthly service.