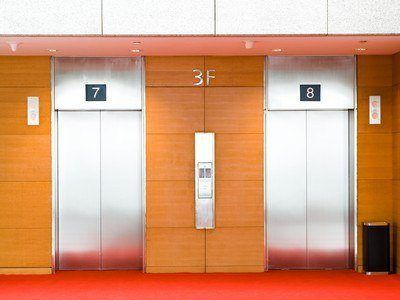 We Clean Small and Mid-Sized Buildings in Midtown
SanMar Building Services cleans whole buildings in Midtown with a specialization in small and mid-size buildings. Our commercial cleaning service is second to none, and we have many satisfied clients in Midtown West, the Garment Center, Flatiron, Times Square, Columbus Circle, and Turtle Bay, which is also known as Midtown East.
Midtown Commercial Cleaning Service is our Specialty
Among commercial cleaning contractors in the area, our services are highly rated we follow advanced protocols that will leave your premises spotless. Every area is attended to thoroughly — even down to smaller but highly visible focal points like polishing the elevators. Our experts make details such as elevator cleaning high priorities on their daily checklists. SanMar's well-trained building cleaning crews arrive each day with a game plan and follow a systematic approach. Your co-workers or tenants will be impressed by the results and if you've tried other Midtown building cleaning services with mixed results, let us show you how SanMar's cleaners provide outstanding service every day.
We take pride in our work and do what it takes to stay ahead of the curve. When others are still using old fashioned string mops, we're flat mopping hard floors as part of an advanced floor-care routine. Trash removal is more than taking out the bags and putting in new ones. SanMar's building cleaners wash out and dry the containers themselves to keep things looking and smelling fresh. Great attention is paid to high traffic common spaces such as reception areas, conference rooms, and lunchrooms. Not only are they swept daily and kept dust-dree but also wiped down thoroughly with special dirt-attracting microfiber cloths. It leaves a polished appearance that is free from fingerprints and scuffs. If the condition if your building has become a topic of conversation among colleagues or tenants, we can help you turn those comments from critical to ones of thanks and satisfaction. Few other building cleaning contractors in Midtown take the time we do to know our clients and their needs. It's this sort of individualized service that is a cornerstone of our success and explains our recent growth.
Cleaning Small and Mid-Size Buildings is What We Do
Because of their location in Midtown Manhattan, the whole buildings we clean often are among the city's busiest. When doors and windows are opened frequently, dirt blows in or is tracked in. In these locations, daily cleaning by expert crews is essential. More than a few recent studies have linked workspace cleanliness to worker morale – and tenant satisfaction. If you're a building manager or landlord, having commercial building cleaners who take a sincere interest in the condition of your premises is the first step toward improving satisfaction and tenant retention. While many services pay nearly all of their attention to floors, SanMar also keeps an eye on above-the-floor elements such as walls and doors which are highly visible. Routine wiping to keep them free from fingerprints and scuffs can make an immediate improvement in the appearance of your building interior. Everyone who arrives at your location will notice that things are clean and well-maintained – and the value of those consistent good impressions can be significant. Because vacancy rates are too high and there is competition for better tenants, making sure you have clean, well-maintained premises is essential.
Among all of the services offered by the best Midtown building cleaners, few are as essential as restroom cleaning. Fixtures, dispensers, and counters need to be sparkling and the room itself fresh smelling. Everything needs to be sanitized according to the latest protocols. We place a significant emphasis on spotless restrooms and achieve this with advanced cleaning chemicals that are both eco-friendly and highly effective. If you have had disappointing results before, we're ready to show you how SanMar makes restroom cleaning better and more consistent. Even if you have men's and women's rooms on every floor, we will make sure the daily service you receive will be the most excellent available. We assign a specific crew to each building and make sure to provide optimal staffing. It means our people can do a thorough and systematic job, giving the needed amount of time and attention to each room. We never rush and always emphasize being thorough and offering the highest quality.
SanMar Provides Unique Midtown Building Cleaning Services
No two structures and their tenants are alike, and that's why SanMar offers one-of-a-kind building cleaning services in Midtown Manhattan. With the tenant populations of many locations changing in recent years, so have maintenance needs – and that's why you need a contractor that is responsive to your needs. We take pride in answering every client call and promptly responding to customer requests. If you have specific building cleaning requirements, we have the expert staff and know-how to help. Consistency and thoroughness are our top goals, and we are there every day to help you make a great impression on anyone who visits your building. If you have a historic interior with wood and marble elements as many Midtown buildings do in Manhattan, we will clean and maintain with expertly so that they are preserved and looking their best at all times. Elevators are cleaned and polished daily including all metal and glass interior elements. Everything lasts longer and works better when it is well maintained.
Last but not least, a word about dust. While we might think of it as being something more related to furniture and tables at home, it's a concern at work as well. Making sure to keep your building free from allergens like dust and dust mites is an essential service provided by the best Midtown building cleaning companies like SanMar. High filtration vacuuming equipment removes dust from carpets and other fabric surfaces where it can collect. Allergy and asthma sufferers will benefit, and things will look and smell fresher. Thorough daily vacuuming combined with proper maintenance of the filters in your HVAC system will produce a cleaner building interior than you've ever had before. If you've been frustrated by the service you've received previously, contact SanMar for a proposal and quote. We're ready to get started helping you have a cleaner building today.
https://www.sanmarbuildingservices.com/wp-content/uploads/2015/01/refinished-wood-elevator.jpg
300
400
admin
https://www.sanmarbuildingservices.com/wp-content/uploads/2016/06/sanmar-logo-300x159.png
admin
2019-04-22 17:33:41
2023-02-26 06:41:42
We Clean Small and Mid-Sized Buildings in Midtown