Did You Know that We Specialize in Office Cleaning?
SanMar Building Services is a leading commercial cleaning company providing the most exceptional office cleaning NYC has to offer. With us, your offices will be cleaned to the highest standards using the best vacuuming, dusting, polishing and sanitizing techniques. Among New York City office cleaning contractors, SanMar is highly rated and assures you of a cleaner, fresher workplace that will be more pleasant for you and your co-workers every day.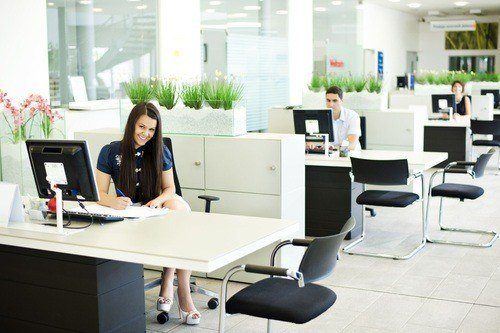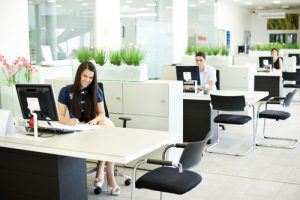 Our professional cleaners make your satisfaction their number one goal and are highly trained and use the latest equipment and environmentally safe cleaning compounds. They are on the lookout for dust, scuffs, fingerprints and everything else that needs to be swept and polished from floor to ceiling. If you're currently interviewing office cleaners, we hope you'll let us show you how SanMar will make your NYC office cleaner than anyone else you can hire.
So many extra touches go into doing a better job. Most important is to provide a unique office cleaning service that considers the details and elements of your workplace. We always arrive with a game plan and work with a methodical approach. It assures that each component is dusted, wiped down, vacuumed, scrubbed and polished most expertly. High-traffic areas such as entrances, reception areas, conference rooms, and restrooms receive individual attention daily. No two are alike, and each demands specific workspace cleaning methods. Our clients look to us for outstanding service and consistently superior results. You and your colleagues spend a great deal of time at work and making sure you have a pleasant, sanitary, and fresh smelling environment is our number one goal. Our clients rave about our service, and we have received many five-star reviews.
Recent studies have indicated that better office cleaning is a contributor to better morale and higher productivity at many companies. When people feel better and are more comfortable, they can focus on their work and be less distracted. It is why SanMar cleans every work station meticulously and with an eye toward perfectionism. Microfiber cloths and special dust attracting agents make our surface cleaning second to none. We also focus on walls, dividers and glass partitions making sure these are free from fingerprints, scuffs, and other marks. Reception counters and seating areas often make the first impression on clients visiting your company, and that's why we keep them spotless. Daily protocols include thorough dusting and wiping down all glass and metal surfaces. We leave your furniture neatly arranged and rooms looking their best so that you are greeting your customer and clients with a neat, clean space that is comfortable and inviting.
Because the city is notoriously dirty outdoors, advanced floor care is one of the essential components of the best New York City office cleaning. SanMar technicians have the most up-to-date equipment, and when it comes to hard floors, they are expert cleaners and polishers. Few things are as noticeable to employees and clients as spotless and gleaming floors, and we make sure yours look perfect. If you have unique surfaces such as stone or marble, our team has the know-how and equipment to keep them looking their best. If previous office cleaning contractors left your floors in poor condition, we also offer restoration services. We're always available to give estimates and explanations of the service we can provide to bring nearly any hard floor back to like-new condition. Few of our competitors have the expertise to match ours, and we're confident the results will impress you and your management, Also if your bosses are hard to please, we can help you win them over.
Restrooms also are areas of focus and making sure they are not only clean but also sanitary is an integral component of our daily workspace cleaning services. NYC is a crowded place, and there is no doubt that many people use your facilities. We understand these use patterns and arrive ready to disinfect and clean your restrooms to the highest standards every day. The latest technology includes environmentally safe chemicals that are strong but safe. You'll have peace of mind knowing your facilities are sanitized and at the same time no overly harsh chemicals will be used in your workplace. Both porcelain and chrome elements will be polished until they are gleaming and spotless. Everyone will notice instantly, and if you are in facilities management the one responsible for selecting your company's maintenance contractors, we would love to show you how we offer the best office cleaning NYC has available. We are flexible with scheduling, our pricing will fit your budget, and we work throughout the metropolitan area, with an emphasis on Manhattan. If you want cleaner offices, contact SanMar today.
https://www.sanmarbuildingservices.com/wp-content/uploads/2015/01/iStock_000020994198Mediumoff.jpg
333
500
admin
https://www.sanmarbuildingservices.com/wp-content/uploads/2016/06/sanmar-logo-300x159.png
admin
2019-03-23 02:26:12
2023-02-26 06:41:42
Did You Know that We Specialize in Office Cleaning?