NYC Restaurant Cleaning Services
When customers visit fine-dining restaurants, cafes, bistros, or diners, you may lose business if they don't feel the establishment is clean enough. Having the proper level of cleanliness can make or break the reputation of your establishment. It's why our goal at SanMar is to provide the most effective restaurant cleaning NYC has available. We understand how crucial it is to make a good impression on everyone who enters.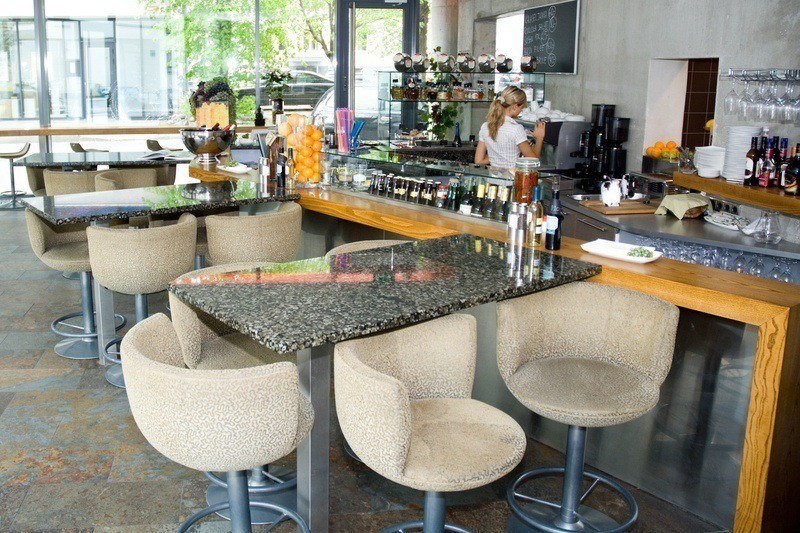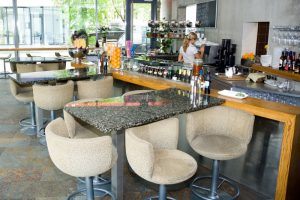 You could train your employees to clean your restaurant up to the city's strict health-code standards. Or you could hire professionals to handle the job and make sure your eating establishment, including food prep areas, floors, bathrooms, and dining areas, is kept clean and sanitary. If you choose to hire SanMar as your NYC restaurant contract cleaner, we promise to clean your food-service establishment up to the highest standards of excellence.
Let Us Show Yor the Difference SanMar Can Make
A restaurant's kitchen staff should not be expected to know how to clean professionally — their job is to pay attention to spot cleaning only. Leave the daily, weekly, or monthly tasks to the experts in restaurant and kitchen cleaning services. Don't risk a bad health inspection grade from New York City Inspectors. Failures are simple to avoid when you bring in professionals who have the correct kitchen cleaning equipment, the proper sanitizing products, and the most thorough restroom disinfecting protocols.
SanMar's janitorial employees clean restaurants, kitchens, and dining rooms thoroughly so that you and your staff can focus 100-percent on serving the best food and drink possible.
Manhattan Restaurant Cleaning Services
The kitchen is the heart of your food-service establishment, and it needs to be cleaned and serviced by trained professionals to operate at peak performance. The health of your customers and the safety of your employees each depend on it. We're focused on helping you keep your back-of-house operations spotless and functioning efficiently.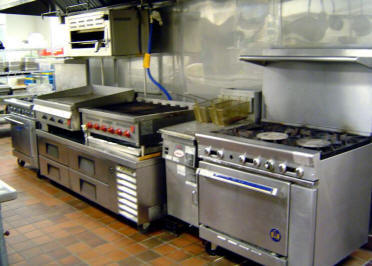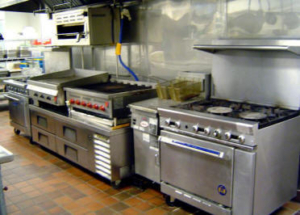 As a restaurant owner, you also understand that you can only make money when your restaurant is open. It's why our crews will work around your schedule, overnight, early morning, daytime, weekends, etc., so your restaurant, diner, cafe, bistro, or fast food location is clean and ready to go during business hours. We'll mop and thoroughly clean all work areas before you open in the morning.
SanMar's Technicians are Trained, Experienced, and Knowledgeable
Our expert technicians clean in a way that satisfies all NYC Health Code, FDNY, and business insurance requirements. We are dedicated to customer service and impeccable standards of cleanliness. If you're looking for a new contractor or considering outsourcing, please get in touch with us for a quote to clean your restaurant; we'll give you the lowest possible price without sacrificing quality. With SanMar, you will receive the best restaurant and bar cleaning services NYC has available at surprisingly affordable rates.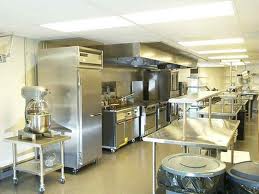 If you operate a food-processing facility such as a commercial bakery, commercial kitchen, seafood processing, meatpacking plant, or vegetable packing facility, you understand that cleanliness is not only crucial for the quality of your end product but also required by law — a variety of specific regulations require you to observe strict cleanliness guidelines. It's why you can't take chances, and outsourcing your cleaning is beneficial. We have staff who can follow OSHA, FDA, USDA, or other New York City health and safety protocols.
We're a Value-Oriented Contractor for Many Food-Service Businesses
Just as your customers trust you, you can trust the pros at SanMar to do the job correctly. We're careful as we clean and take care to safeguard the expensive food-processing equipment on which your business depends. We also work efficiently to go easy on your budget. You'll be pleasantly surprised by our rates for the caliber of service we provide. Our goal is to make a noticeable improvement from the first service date when to clean your food-processing establishment effectively and inexpensively from now on. Consistency means everything, and we'll make sure you can concentrate on your business and customers while we keep your facilities spotlessly clean.
Commercial Kitchen Hood Cleaning
It's a given that clean kitchen exhaust systems reduce restaurant fire hazards. One of the primary defenses against fires in any commercial kitchen is regular degreasing and maintenance of the hood. A clean system removes heat and odors from your restaurant's kitchen more efficiently, keeping your employees cooler and more comfortable. It promotes better performance to support your New York City area business. At SanMar, we have the know-how and equipment to service your system to the highest standards: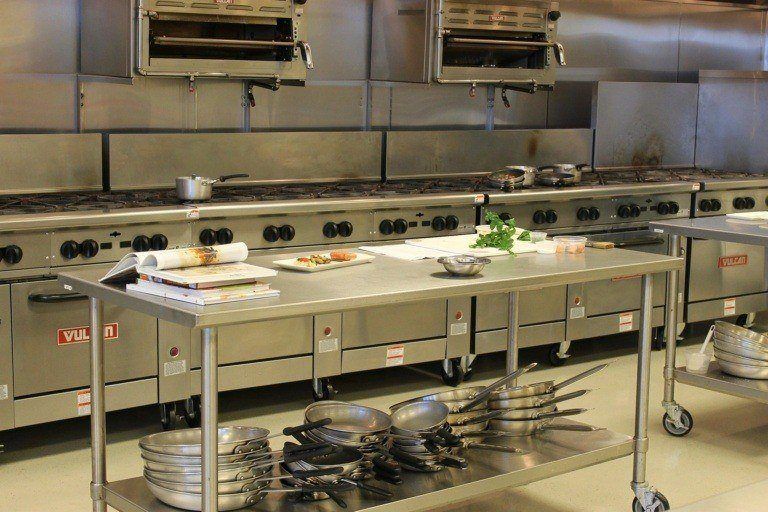 • Thoroughly clean kitchen hoods inside and out
• Remove grease from the hood, air ducts, and fan system
• Degrease or replace filters
• Clean all accessible areas of restaurant exhaust ductwork
• Install access doors where necessary
• Clean exhaust fan blades, motors, and other parts
• Remove, clean, and inspect exhaust fan belts; replace if necessary
• Secure electrical connections on the exhaust fan
• Check exhaust fan blades for excessive wear
The best maintenance plan is a service agreement for a regularly scheduled cleaning and maintenance program. It's your best defense against fire hazards and will prolong the life of your system. You'll also have less stress at inspection times and give a morale boost to your chefs and kitchen crew, who will be working more comfortably and safely.
An NYC Restaurant Cleaner That Does It All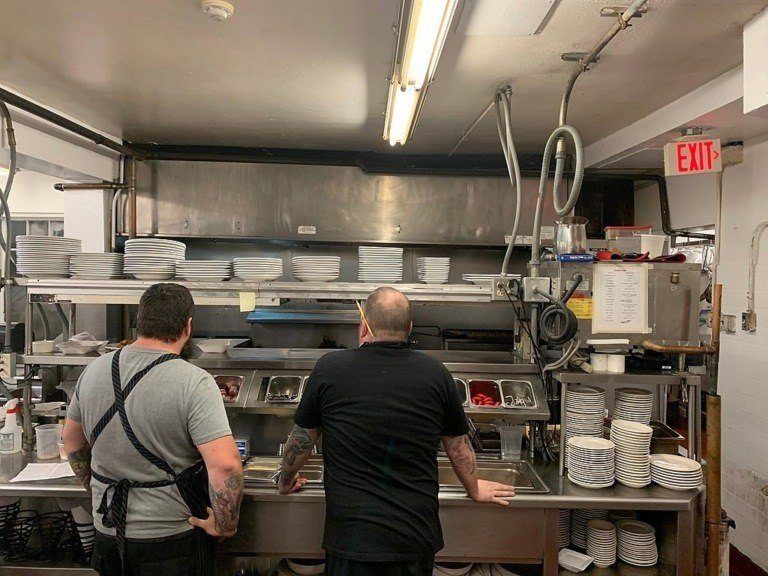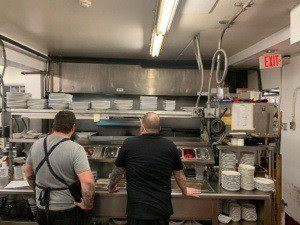 New York City is one of the world's greatest restaurant cities and is famous for every type and size of an eatery. It's why we've created our restaurant cleaning services to fit everything from the finest celebrity chef-owned restaurants to the busiest diners and fast-food establishments. Each one has unique needs, and with us, no two cleaning checklists are alike. We treat every business individually and are attentive to its specialized needs. We're also equally focused on front and back-of-house (kitchens and pre areas) operations. Each needs to be cleaned effectively to give customers peace of mind and satisfy inspectors.
Not Pleased with Your Current Contractor?
Let us show you the immediate difference we can make. SanMar Building Services is a one-of-a-kind organization with specialized capabilities. Our customers stay with us for long-term agreements because we help their businesses thrive in one of the most competitive cities on the globe. The Manhattan and Brooklyn restaurant scenes are legendarily competitive, and hundreds of factors influence diners. We understand the challenges you face, including budgets, and will clean your NYC restaurant better than anyone else for a surprisingly affordable price. If you're ready to make a change for the better, don't hesitate to get in touch with us today for a free, no-obligation quote for daily, weekly, or monthly service.