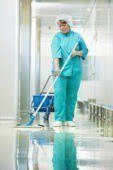 NYC Medical Office Cleaners
with a Thorough Aseptic Technique
SanMar offers unparalleled medical office cleaning services throughout New York City. Our team is experienced in handling any kind of medical facility cleaning task, from doctor's offices and surgery centers to laboratories and hospitals.
We are confident that our professional office cleaners can provide the sanitation standards you need in order to have a more hygienic environment every day. Clients who have utilized our services often leave us with positive feedback, making us a highly recommended medical cleaning contractor in the area.
If you're thinking of hiring a medical office cleaner, SanMar will demonstrate its outstanding service quality for your utmost convenience. We offer competitive rates, flexible hours, as well as attentive customer support so we can best meet all your needs and expectations.
Our technicians are trained to practice advanced aseptic techniques when cleaning medical facilities, meeting the standards and guidelines set by both the Centers for Disease Control (CDC) and the Association of Pre-Operative Registered Nurses (AORN).
Moreover, we work hand in hand with healthcare staff to reduce the risk HAIs (Healthcare Acquired Infections) from spreading.  With SanMar's help, you can be sure that your medical office or facility will remain hygienic at all times.
We Clean Medical Facilities Professionally
with Expertly Trained Staff
We offer specialized cleaning services for medical facilities with expertly trained staff who understand the unique requirements of doctor offices, dental facilities, surgery centers, laboratories, and hospitals. All our professionals follow New York City regulations for healthcare cleaning and have a general understanding of the chemistry of cleaning solutions and microbiology.
This means SanMar knows how to correctly clean your medical facility to prevent the spread of HAIs. By identifying control points within your facility our janitorial staff can effectively disinfect and clean areas that could transmit HAIs.
Our professional cleaners undergo in-depth training combined with real-world, hands-on practice in a medical environment. This enables them to gain an understanding of aseptic cleaning practices which can help reduce the risk of HAIs. This includes knowledge of:
Aseptic cleaning practices
Blood-borne pathogen cleaning
Air disinfecting and air-borne pathogen cleaning
Outbreak containment and terminal cleaning
PPE (personal protective equipment)
Disinfectant solutions
Universal precautions
Cleaner Medical Interior Environments from a Professional Cleaning Contractor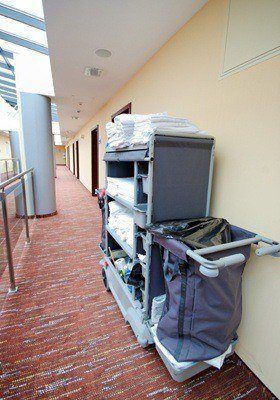 Our team understands that the process for aseptic cleaning in medical interiors is different from what they would use in a typical workspace. ES (Environmental Services) personnel must receive specialized education and training on disinfecting, non-critical and critical cleaning protocols, as well as utilize advanced protective gear (like gowns, gloves, and masks) when working in areas where contaminated surfaces may contain contagious microorganisms.
Moreover, any medical office cleaning NYC protocol should include using the correct EPA-endorsed hospital-grade cleaners or disinfectants on any surfaces in all regions which could have been polluted, followed by thorough cleansing and sterilizing.
Careful attention is given by our medical facility janitors on high-touch surfaces that are often neglected such as computer keyboards, remote controls, door handles, phones, tables, and light switches. Through proper aseptic medical cleaning, microbial counts quickly diminish and prevent HAIs from spreading.
In rooms, our team disinfects the front, backside, and top of beds used by patients including their mattresses and frames. Our aseptic cleaners begin with the uppermost surface area and continue to clean downwards until each spot has been sanitized and sterilized.
SanMar's Aseptic Medical Cleaning follows Enhanced Methods
At Sanmar, we take a comprehensive approach to maintaining a safe and sanitary environment for visitors, patients, and healthcare workers. Our team uses the latest techniques and most reliable cleaning agents to remove biological contaminants from surfaces with an emphasis on thoroughness, effectiveness, and attention to detail.
We take pride in our work as we understand the importance of preventing the spread of healthcare-associated infections which affect two million people annually yet could be reduced by one-third if proper infection control procedures are followed.
Mopping programs that improve matter and soil removal
Microfiber tech in our cleaning cloths
The strict methodology of color-coding cleaning equipment reduces cross-contamination
Cleaning compounds containing hospital-grade disinfectants for the best efficacy available on the market
Revolutionary "no-touch" soil and contaminant removal to exceed standards for food-contact surfaces
High-efficiency vacuuming tech provides air filtering down to 0.3 microns, HEPA multi-filtration
Our no-dip method of flat-mopping improves soil removal, increases surface contact, and eliminates cross-contamination
Our efforts are committed to helping reduce the number of HAIs through our meticulous aseptic medical cleaning process. We have a genuine concern for all those who enter the facility and strive to create an environment that is safe, clean, and healthy.
Our Thorugh & Effective Cleaning Gives Greater Peace of Mind to Staff, Patients, & Visitors
At SanMar, we understand that you need a medical cleaning contractor with advanced methods, trained professionals, the best implements, and the safest eco-cleaning chemicals available. However, there's also a human dimension to our work that is just as important.
Our team genuinely cares about the people who use the medical facilities we clean and go out of their way to ensure everyone has a safe and sanitary environment. This commitment sets us apart from other cleaning contractors in NYC and creates stable, long-term client relationships.
We strive to provide peace of mind for staff, patients, and visitors through our thorough and effective cleaning services. If you'd like to get more information or receive a free quote from us, please fill out our online form or call (917)-924-5590 today.